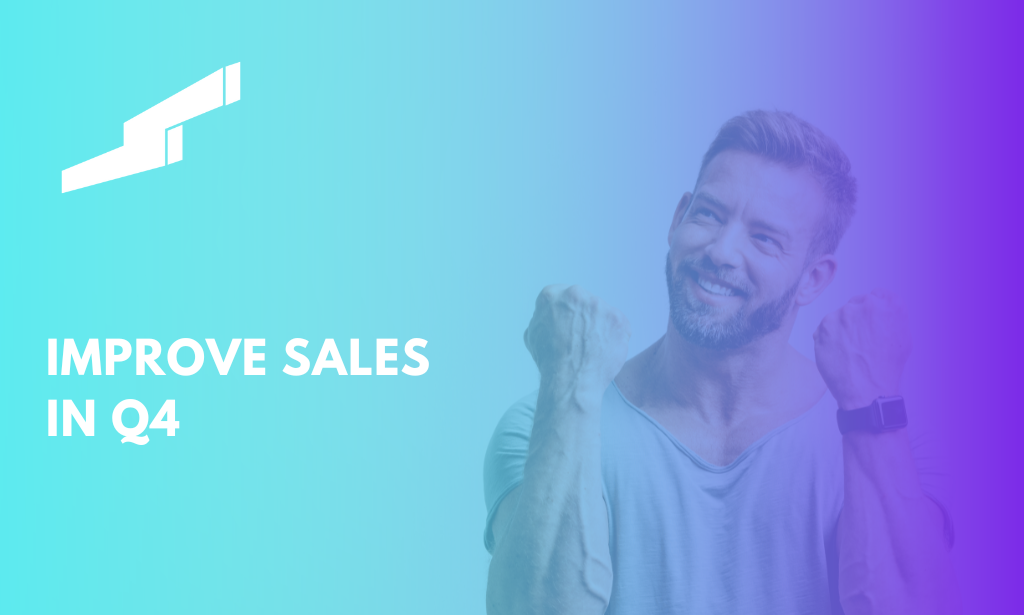 HINTS AND TIPS TO IMPROVE Q4 SALES
Make The Most Of Q4 Sales
And Get A Free Consultation Call In The Process!
Quarter 4 is busy! It's the last chance of the year to improve those sales figures and increase your revenue.
The good news is that Q4 is full of opportunities to do just that!
Black Friday alone drew a whopping £4.81 billion in online sales in 2022.
Over the 2022 Christmas period (November to December), more than £22 billion was spent shopping online in the UK!
Want a piece of that action? Here's how!
Q4 has several key dates that online ecommerce brands can capitalise on and use to boost sales before the year is out.
The trick is to plan ahead and use each event in the right way, that is appropriate for your brand, and get your marketing ducks lined up ready to maximise the potential throughout the quarter.
With the right products, the right strategy, and the right execution, you can piggy back from one sales event to the next right through Q4, maximising the sales potential in every opportunity, and increasing revenue significantly.
Key sales events in Q4 and ideas on how to capitalise on them
Increase engagement with your audience by getting spooky, creative, or punny on social media and in email campaigns. Encourage and accumulate User Generated Content (UGC) by asking followers and customers to share halloween or autumn themed pictures with your products and tag your brand in them. Run Halloween promotions, offers, and campaigns throughout the month of October in the lead up to Halloween.
Diwali, 12th November (2023)
Although perhaps not considered a mainstream retail holiday event, Diwali is celebrated around the world by Hindus, Sikhs, Jains, and some Buddhists, which equates to well over 100 million people, so it is definitely worth considering! Diwali, the Festival of Lights, is a five day long festival celebrating new beginnings and the triumph of good over evil. Exchanging gifts between family, loved ones, and friends as an expression of one's affection forms part of the celebration for many. Traditional Diwali gifts often consist of food (like sweets, dried fruit, and nuts) gold, jewellery, and coins. However, nowadays gifts can be almost anything, including electronic gadgets and products, cosmetics, accessories, and more. It could be worth including a Diwali promotion in the run up to the festival to help boost sales!
Black Friday, 24th November
The big one! Arguably the biggest day of the year for ecommerce brands. Think discounts, discount codes, sales, deals, offers, 2-for-1s, 3-for-2s, BOGOF, bundled offers, site-wide discounts, freebies, anything you can offer customers on the day or over the course of the weekend to maximise impulse buys, convert on-the-fencers, and push people over the line. Start a countdown to Black Friday to build up anticipation and excitement amongst your audience. Offer previews and snippets of what to expect. Ask followers what they're hoping to snag on the day, create conversations.
Cyber Monday, 27th November
Another big deal day, much like Black Friday, but originally designed for "online" shopping as opposed to across the entire retail sector. This is a good opportunity for anyone selling tech products (taking advantage of the name), for brands with both physical and online stores to offer "online only" deals not available in store, or for ecommerce brands to stand out from retail brands with physical stores.
Small Business Saturday, 2nd December
This is a great opportunity for small businesses, SMEs, or retailers that service a more localised customer base, to capitalise and utilise the support for small businesses that this event generates and boost sales. Tell your small business story and how important support for it has been during the lead up to the day. Offer both loyal and new customers a discount code to use or a deal or offer they can take advantage of over the weekend or just on the day. Make it personal. This day is all about support and showing your human side and creating connections with your audience will work best.
Hanukkah, December 7th to December 15th (2023)
The Jewish festival of lights, Hanukkah spans eight days and nights, which means eight nights of celebrating, eating delicious food, and lighting candles. For many Jews, it also means eight nights of gifting presents, too. While not all Jews celebrate by exchanging gifts over the full eight days of the festival, it is worth thinking about including Hanukkah in your calendar with an appropriate campaign to maximise any potential for sales.
Free Shipping Day, 14th December
Unexpected or high shipping costs and delivery fees are the number one reason for abandoned carts online (we always recommend being forthcoming and transparent about these costs on your website). If you can afford to offer free shipping for a day, then do so. Or if you already offer free delivery or a free delivery option (like free delivery on orders over a certain amount), then this is a great event to promote. You can offer free shipping on ALL orders for the day, on orders that reach a threshold amount, or offer a free delivery discount code to use on the day visitors sign up to your mailing list (this is a great way to increase your mailing list but don't forget to include customers already signed up to take advantage of repeat business). This is a great event to include in Christmas campaigns too – "get your Christmas gifts delivered for free" etc.
Christmas, 24th/25th December
This one needs to be promoted throughout Q4 or, arguably, even earlier than that. Research shows that many people start Christmas shopping in the summer! But you also want to capitalise on last minute gift purchases and impulse buys closer to the date – just make sure you take delivery times into consideration. You don't want to offer Christmas gifts that won't arrive in time for Christmas. If you can guarantee next day delivery (and we mean guarantee it), go for a big push with unbeatable prices on the last few days before Christmas (21st, 22nd, and 23rd) to really make the most of last minute, impulse, panic buys.
Boxing Day, 26th December
Boxing day sales used to be a massive retail event for physical stores but online retailers have been reaping the benefits since the rise in online shopping too. You can promote deals on the day or spread it out over the week between Boxing Day and New Year's Eve. Just make sure your customers and audience know about it and what's on offer.
New Year's Eve, 31st December
The last holiday of the year! And PARTY TIME! This is a great opportunity to push party themes, celebration themes, family fun, friends, fresh starts, new beginnings, anything you can think of that fits in with the New Year's vibe. This can carry on into New Year's sales the next day/week or you can keep it separate and start off the new year with a bang.
New Year's Sales! 1st January
OK! Technically, this doesn't fall into Q4 but it should definitely be included in your planning and scheduling in Q4! January sales have consistently been one of the biggest sales events early in the year for businesses, so it is essential that you plan ahead and include it in your campaigns ahead of time. It is often a great way to extend the success of your Q4 sales into Q1 and kick start the year with a great big boost!
Here are a few other dates that may be worth considering for your Q4 sales calendar:
Dia de los Muertos, 2nd November
Bonfire Night (Guy Fawkes Night), 5th November
Remembrance Day, 11th November
Singles Day, 11th November
Thanksgiving, 23rd November
Giving Tuesday, 28th November
Festivus, 23rd December
Kwanzaa, 26th December to 1st January
There are loads of opportunities to increase your sales figures, improve your engagement, capitalise on impulse buys, and improve your ROAS and ROI during Q4, but you need to get a plan of action in place early to make the most of it all.
Don't wait. Start now.
We can help!
We've successfully navigated brands through numerous Black Fridays, Cyber Mondays, Christmas lead-ups, and post-Christmas sales for years.
We know how to:
Create and implement the right marketing strategy tailored to individual brands.
Distribute, manage, and adjust advertising spend appropriately throughout the quarter to improve return on advertising spend and make the most of your budget.
Write, design, and implement email marketing campaigns that nurture leads, retain customers, and capitalise on sales opportunities.
Improve on-site SEO, add SEO enriched website copy and content, improve website navigation and checkout processes to improve search engine rankings, reduce cart abandonment, improve user experience, and increase conversion rates and sales.
Increase traffic to your ecommerce website through diversified traffic sources.
Produce creative content and graphics that boost conversion rates and drive sales.
We've done it all before, we can do it all again.
FOR YOU!
Let's get started with a FREE 30 minute consultation and get you ready to make 2023 Q4 the best one yet!