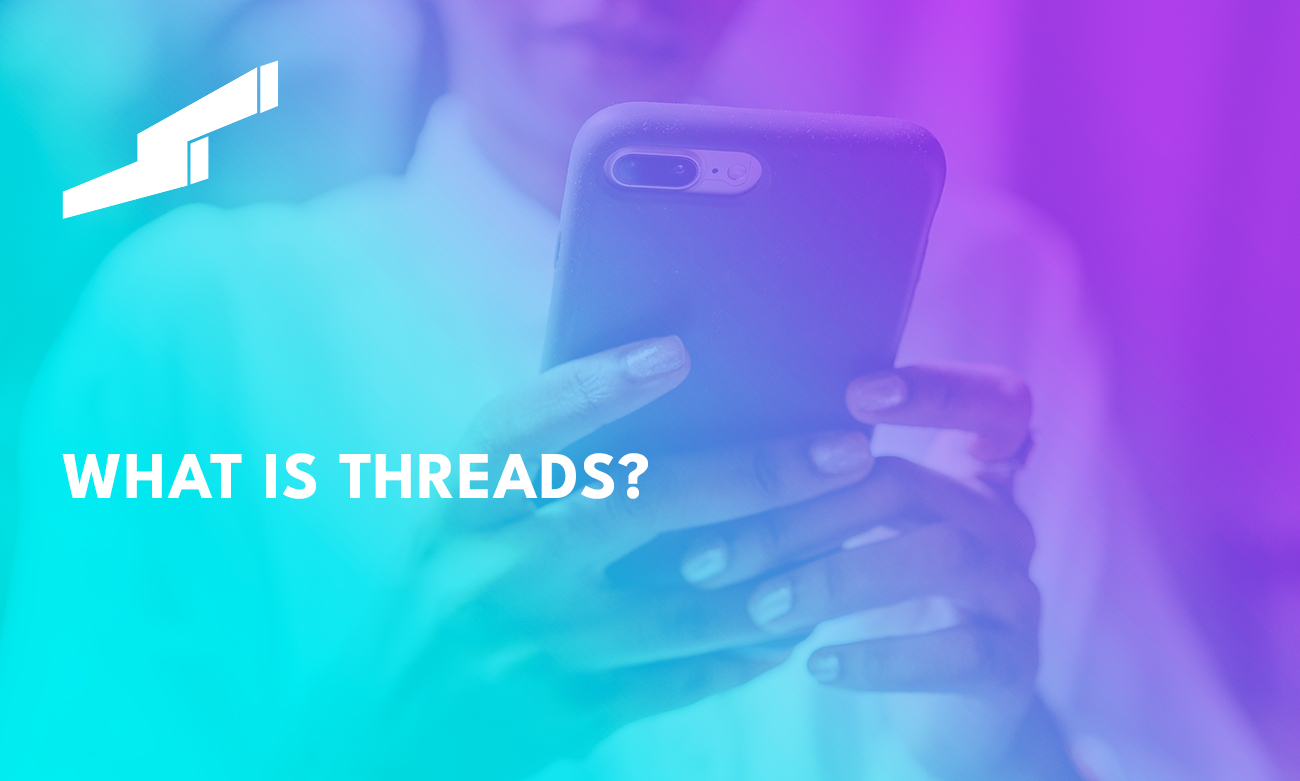 WHAT IS THREADS?
You may have heard the word "Threads" being bandied around online, especially within the Meta sphere of Facebook and Instagram but what exactly is it and should you jump on the bandwagon and get involved?
What is Threads?
The rivalry between Meta (Facebook and Instagram) and Twitter, Mark Zuckerberg and Elon Musk, the two largest players in the social media landscape, has officially stepped up a level. Forget the potential upcoming cage match between Zuckerberg and Musk; Threads vs Twitter is the next big fight, according to many news outlets and critics of both camps.
Threads is the latest social media platform to be launched by Meta and is designed to be a predominantly text-based conversation app that allows people to share their message in real-time. 
Sound familiar? Well, it probably should. Many people, including Musk himself, claim that Threads is merely a copy of Twitter and a vain attempt by Zuckerberg and Meta to compete directly with Musk's social media app and capitalise on the unrest amongst users since Musk's controversial acquisition of Twitter.
What is the difference between Threads and Twitter?
Due to the similarities between the two apps, it would be easy to assume that Threads is just Meta's version of Twitter and works in pretty much the same way. However, there are some differences between the two that are worth noting and will affect how best to utilise the new platform.
Threads has a higher character limit than Twitter
One key difference between Threads and Twitter is that Threads allows all users to post up to 500 characters, whereas Twitter's standard limit is 280 characters. You can create tweets with a higher number of characters, up to 10,000, but you need to pay to do so as a Twitter Blue subscriber.
You can transfer your Instagram settings and followers to Threads
If you create a new Twitter account, you are essentially starting from scratch and will need to build your following up over time. With Threads, users are required to have an existing Instagram account. If you already have an Instagram account, you can port certain information from your Insta bio along with your followers list, meaning that you aren't starting from scratch and can kick off your Threads account with an existing audience. When users create a new Threads account through Instagram (which is currently the only way to do so at launch), you're able to keep the same username (making it easier for people to find you if they're already familiar with you on Instagram) and it will prompt you to follow the same accounts that you follow on Instagram. All of which is a major boon for businesses and brands on Instagram that decide to join Threads.
Videos are longer on Threads
On Twitter, standard non-Blue users can post videos up to two minutes 20 seconds long. On Threads, all users, including unverified users, can post videos up to five minutes long. You can post longer videos on Twitter, up to two hours long, but you need to pay as a Twitter Blue subscriber. Brands and businesses on Threads can capitalise on this by posting longer informative videos, product launches, how-to videos and more that they may be unable to on Twitter.
Threads' user interface is already familiar
As with any new app, it can take a little while to get used to. Not the case with Threads. Instagram users will find it incredibly intuitive and easy to get used to, since it follows much of the same structure as Instagram, making it incredibly familiar. And for anyone familiar with Twitter… well, you're already familiar with the concept of text-based social posts. Double win!
Threads has the same content rules as Instagram
Because it's been created as a kind of sister app to Instagram, Threads also has the same, familiar content rules, so there's no figuring out what you can and can't say or being bombarded with inappropriate content. Threads also has the same controls for muting and blocking accounts that you don't want to see or that harass or spam you, too.
Threads has masses of potential for cross-platform posting and sharing
Because Threads has been built on the ActivityPub social networking protocol, it has huge potential for interaction and integration with other decentralised social media platforms like Mastodon or Bluesky Social. Potentially, you could interact with a much wider audience and community than just that based within Meta's social media platforms.
Is Threads worth joining?
As with any new social media app, only time will tell. But with a multibillion dollar company backing it, with the potential for huge investment in the future of the app, and due to the fact that it's audience will grow extremely rapidly in a short space of time thanks to the ability to easily port your Instagram details and followers, we'd say it'd be crazy not to give it a go!
10 million users had already joined Threads within seven hours of its launch (as of the time of writing this sentence, there are nearly 17 million users) – and it hasn't even launched completely worldwide yet! If that doesn't tell you all you need to know about its potential user base, we don't know what will.
Another bonus about Threads is that it allows you to share the content you post to your Instagram Stories and Feed – all it takes is pressing the same icon as you would on Instagram after creating your post to share it to your story, feed, or (maybe a bit cheekily) Twitter.
With masses of potential for reach, engagement, and all the excitement of a new platform that will have people interacting a lot in the early stages, Threads offers a fantastic opportunity to get your brand or business out there in a new way.
How do you Join Threads?
This is so easy! As long as you have an Instagram account already. 
All you need to do is: 
Go to your Instagram profile

Select the three lines in the top right corner

Select "Threads" from the menu – literally the second option (for now)
That's it! Then just follow the instructions, port over your instagram details, follow everyone you already follow on Instagram, you're done! The buttons to "Follow All" and port from Instagram are very clear and highlighted at the bottom on their respective pages during setup. It's extremely easy to get started.
Can you advertise on Threads?
At the time of writing, Threads has launched with no ads feature, a strategic move likely done to create more excitement about the app and get people using it regularly first. It is a Meta app though, so expect the capability to create ads in the near future.
How should you use Threads as a brand?
Threads has been designed to be a more personal, community based experience, allowing users to have conversations about topics they are interested in and interact with friends and like minded users in a positive manner.
But what does that mean for brands?
For marketers, businesses, and brands, interacting on Threads will be different from other platforms, even Twitter. Threads should be, according to Meta at least, treated as a way to form more personal relationships with customers and followers. Have deeper conversations, share exclusive behind-the-scenes content, offer a safe place for customers to experience personalised customer service, encourage UGC and share it like mad.
Top tips to make the most of Threads during its infancy
Here are some of our top tips to get the most out of Threads while it's still fairly new and fresh. These could change over time as the platform grows and evolves but for now, we think these are some of the best ways to use Threads.
Engage with your audience
First and foremost, Threads is a conversational app. If you're not actively engaging with your audience or posting engaging content designed to start conversations or elicit a response, then you're not doing it right. It's not just the fact that this is what the app was made for, Instagram's own algorithms favour engagement, so it makes sense that Threads will also favour this. Plus it's just bloody good manners (as well as good SEO). Respond to comments on your Threads, join in on other peoples' or brands' conversations, like and share customers' posts about you or something relating to your industry. Share snippets of what it's like to work at your company, what goes on behind the scenes, funny moments that happened in the office (within reason), show your brand's human side. Comment on discussions about your brand on the platform and engage directly with others commenting, allowing conversations about your products or services to flow – even if they start off negative in nature, try and resolve any issues and actively seek a solution with the customer. Engage, engage, engage. We would suggest, at least at first, give your social team lots of wiggle room to experiment, have fun, and try different things on Threads.
Optimise your profile
As with any social media platform, you want to optimise your bio and your profile as best you can. Because Threads is a companion app to Instagram, it'll work in much the same way and the optimization you perform on your Insta profile will be just as important. Use keywords relevant to your brand and industry in your bio, ensure your username is correct and easily searchable (the fact it ports this over from Insta should mean there aren't any issues here), and use appropriate imagery that suits your brand so it is easily recognisable.
Use User Generated Content (UGC) wherever possible
Due to the fact that Threads has a major focus on intimate sharing and community, it makes it the perfect place to leverage UGC to the max! Encourage customers to share stories about your brand, products, and services on Threads and share it to your own profile and Instagram Stories. Having other Threads users see real people talking about your brand and not just you will help increase trust in your brand as well as visibility and organic reach.
Let influencers influence
Yes, influencers will likely have a big role to play for brands on Threads, too. Remember – everyone can port their followers lists onto Instagram, which means that influencers will be started on Threads with an already large audience of their existing followers on Instagram. Which will make it even easier for them to promote your brand to a wider audience than on your own account. All good influencers engage frequently with their audience, too, so collaborating with those that suit your brand and your audience can massively increase your exposure. Because Threads is closely linked to Instagram, influencer marketing could impact both social media platforms and drive traffic to both your Instagram profile and your Threads profile. Another double win!
As always – create great content
Content is key. Creating high quality content that is relevant to your target audience has always been a priority, no matter what social media platform you're on. Threads provides yet another avenue for your content to shine. However, one thing to keep in mind when creating content for Threads is that the app is designed to be more personal in nature. So, we'd suggest keeping your content the same. Personalise your content, humanise it, create content that is a little more intimate in nature to encourage interaction and familiarity with your brand. And, above all, offer value to your audience through your content.
One last nugget of advice for Threads
Have fun with it! Experiment! Do something a little different from the norm! Show some faces behind the brand. Show your human, including outtakes. Start conversations. As long as it doesn't detract from your brands' message and isn't majorly off-brand, let loose and have a play.
As always, if you'd like any help launching your brand on Threads or with your social media marketing, give us a shout!