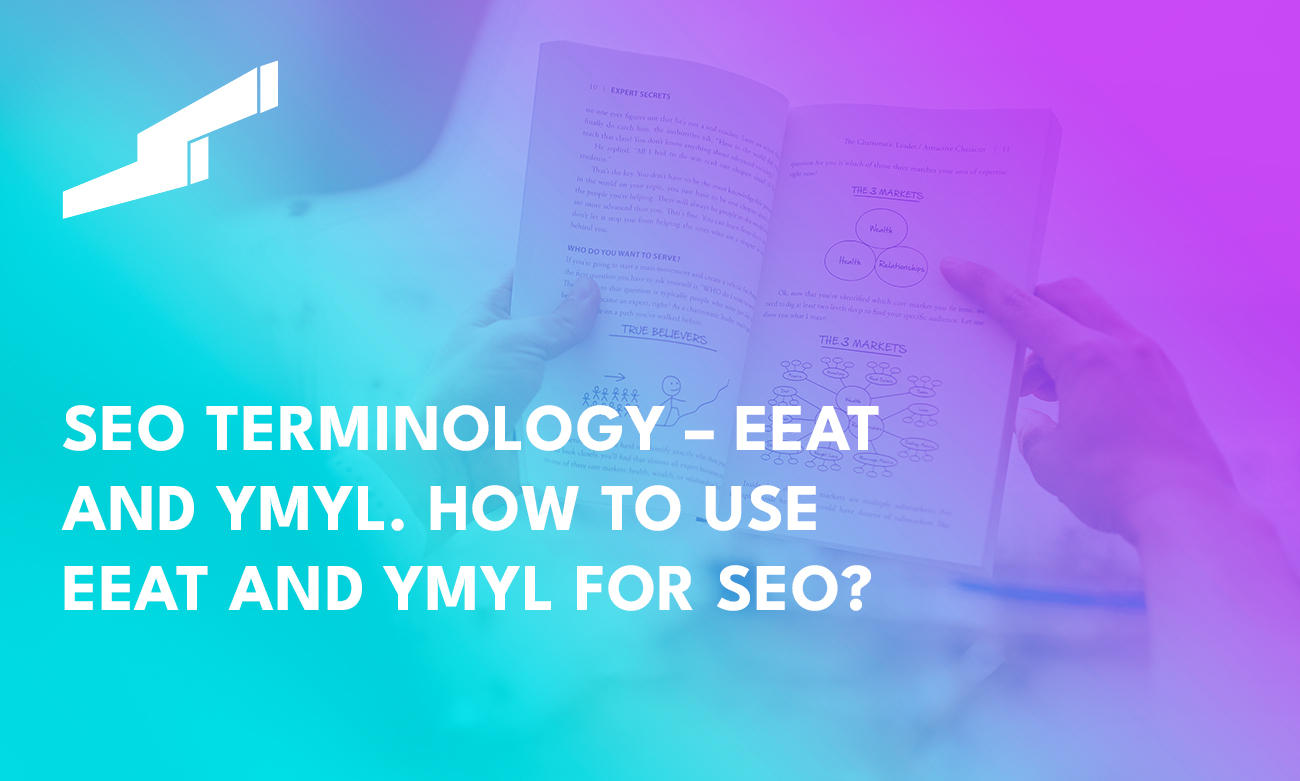 SEO TERMINOLOGY – EEAT AND YMYL. HOW TO USE EEAT AND YMYL FOR SEO?
Marketing terminology is full of acronyms:
PPC – Pay Per Click 
CTA – Call To Action
ROI – Return On Investment
SEO – Search Engine Optimisation
CPA – Cost Per Action or Cost Per Acquisition
CTR – Click Through Rate
UX – User Experience
…the list goes on.
Many of these terms will be familiar to you, whether you work directly in marketing or not. Some acronyms, however, are slightly lesser known but still very important, especially when it comes to websites, content creation, and Search Engine Optimisation – the method in which you improve your ranking on search engines like Google.
Understanding what these acronyms stand for, how they relate to the content you produce, and how to use them to improve the SEO on your website is crucial to helping your website rank better organically in search results.
EEAT and YMYL are two such acronyms.
The TL;DR of it is that E-E-A-T relates to the credibility and trustworthiness of a webpage, the content creator, and a website, and YMYL relates to pages or information on a website that may impact a person's life – specifically their happiness, health, financial stability, or safety.
Understanding both E.E.A.T. and YMYL and how they relate to your content is important for building trust in your website, which helps improve your SEO and can contribute to higher rankings in se
What does EEAT stand for?
Formerly known as EAT, EEAT stands for Experience, Expertise, Authoritativeness, and Trust.
Google updated their Search Quality Rater Guidelines in 2022 to include an extra E for Experience. Google's Search Quality Rater Guidelines is a handbook for people that evaluate search results and provide feedback on the quality of those search results to Google. Google then uses the feedback they provide to help measure how successful any algorithm updates they have recently introduced have been
Essentially, EEAT is an important consideration in Page Quality. Page Quality (PQ) is a type of rating system that Google uses to "determine how well a page achieves its purpose" and is ranked on a scale from Lowest to Highest, with numerous points in between. Obviously, you want your page quality to be deemed good enough to be ranked towards the "highest" end of the scale, which is why it is important to consider EEAT when planning and creating content for your webpages.
Out of the components that make up EEAT, Experience; Expertise; Authoritativeness; and Trust, it is Trust that is the most important. Experience, Expertise, and Authoritativeness all contribute to how trustworthy your content is deemed to be.
The better the Experience, Expertise, and Authoritativeness of the content on the page and the person or brand behind it, the more Trust can be attributed to it and the higher your Page Quality score is likely to be.
Let's break down the separate components and how they relate to your content.
Experience
Do you, your brand, or the creator of your content have first-hand experience on the topic? 
The content you put out needs to demonstrate relevant experience on the subject matter on the page, wherever possible. 
This is important because, by establishing that you are experienced in the area you are discussing, you are showing the reader or user that your content is authentic and that the information you are providing has been tried and tested, i.e. it can be trusted.
Take product reviews, for example. Which would you consider more trustworthy? A video or statement from an actor or brand representative stating how great the product is, or product reviews from "verified purchase" customers who have bought and used the product?
Most people would select the latter as being more trustworthy and many people will read multiple reviews of products before making a purchase because they want to know other peoples' experience of the product to help inform their choice.
If you can demonstrate your experience when creating content for your website, it will help add weight to your words, build credibility and trust, and potentially improve your Page Quality score, all of which will help with your SEO efforts.
Expertise
Do you have any particular credentials, such as relevant qualifications or specialist knowledge, that enables you to be considered an expert in the field the subject matter relates to?
Experience can often lead to expertise, you may have years or decades of experience that has led to you possessing expert knowledge on the subject, but experience and expertise are still two distinctly different things.
For example, you are far more likely to trust information and advice about tax returns from a fully qualified accountant's website who has FCCA status and ACA and CIMA qualifications than you are from a non-financial-related blogger's post discussing how they filled out their most recent tax return.
The advice or information provided is considered more (or less) trustworthy as a result of the qualifications, knowledge, or credentials of the content creator, and the content on the accountant's website will likely be given a higher Page Quality rating than that of the blogger's. As a result, the page from the accountant should appear higher in search results than the page from the blogger (assuming the rest of their SEO efforts are of a similar standard).
Authoritativeness
Are you or your website considered a good source of information for the topic you are writing about? Do people, businesses, or other websites mention you, refer to you, or share or link to your content online in relation to the subject matter?
The hardest of the EEAT components to pronounce out loud, Authoritativeness is related to your reputation within the industry. This is particularly important for specialist content, such as advice or informative posts.
When reviewing your content for Page Quality assessment, Google's quality raters need to assess the authoritativeness of you (the creator), the content itself, and the website on which the content sits.
For example, the official DVLA website would be considered as the authoritative website for information on driving licences, vehicle tax, and requirements for re-registering vehicles as campervans. Alternatively, a local tourism page on social media could be a trusted source and considered authoritative for local events.
To be considered authoritative in your industry, you'll need to have other authoritative sources linking to your content, which, if you are producing content of value, people will be. But it doesn't hurt to push for a few shares, mentions, and links too. Backlinks are a good method for improving your website's authority and forms part of a good overall SEO strategy too. Just be wary of disingenuous backlink 'providers' offering a lot of backlinks as part of a package – you want backlinks from websites that are already considered authoritative and not from ones considered untrustworthy.
To be authoritative is to be well known and looked to as a market leader, someone who knows what they're talking about, and is considered to be a good source of information.
Trust
Trust, in Google's own words, is "the most important member of the E-E-A-T family because untrustworthy pages have low E-E-A-T no matter how Experienced, Expert, or Authoritative they may seem."
Google uses the example of a financial scam online – it is always deemed "untrustworthy, even if the content creator is a highly experienced and expert scammer who is considered the go-to on running scams!"
The first three components of E-E-A-T, Experience; Expertise; and Authoritative, all contribute towards an appraisal of a website or webpage's trustworthiness but the amount of trust or type of trust required will depend on the page itself. Checkout pages on ecommerce sites with a secure and encrypted payment system are deemed more trustworthy than ones with an insecure method, so it's not just the content itself that Trust relates to but the overall page.
For example, if you decided to ask ChatGPT to write a blog about a specific subject for you and you published it without checking, it could contain factual inaccuracies that could affect its trustworthiness – especially if the page contains YMYL content.
If the content, the content creator, or the website is not considered trustworthy, the page will receive a low quality rating and could appear much lower in search results.
So, there's EEAT for you. 
The more you can demonstrate Experience, Expertise, and Authoritativeness within the content on your webpage, as well as providing a safe and secure UX for visitors, the more trustworthy it will be deemed and the higher Page Quality score it'll receive. 
This will not only help you when Google's quality raters view your webpages, but it will also help you improve the overall SEO for your website too, as Google rates high value content better! If your content is trustworthy, written with experience and expertise, and considered authoritative, that has got to be high value content, right?
What does YMYL stand for? What is YMYL content? And how does YMYL relate to SEO?
YMYL stands for Your Money or Your Life and relates to discussion topics that might have an impact on people's financial stability, safety, health, or happiness. 
YMYL topics aren't limited to those that only affect the individual engaged in the content either.
Google describes YMYL content as topics that have the potential to significantly impact or harm:
The individual directly engaged in the content
People affected by the individual engaged in the content
Society or groups of people that may be affected by the actions of the individual that engaged with the content
YMYL topics can include things like current events and news articles, information or posts about medicine, topics about dangerous activities that should not be carried out by untrained individuals, or even financial advice or information.
Judging whether a page contains YMYL requires a bit of common sense and personal judgement, however. A page containing the latest news about the Oscars and who won what award wouldn't really be classed as containing YMYL content. Whereas pages containing information on prescription drugs or updates about natural disaster warnings would be obvious YMYL topics.
EEAT plays an important role in the SEO for YMYL topics. If your webpages contain YMYL topics, they need to contain clear, accurate, trustworthy information from authoritative experts with experience and knowledge in the subject matter. 
For example, offering advice or information about prescription medication should only be done by medical professionals with the prerequisite knowledge and qualifications, as misinformation could cause significant harm to someone's health. 
If any of the content on your website contains YMYL topics or has the potential to be considered a YMYL topic, you will need to ensure that your EEAT is as good as it possibly can be.
EEAT and YMYL aren't strictly ranking factors for SEO but by following best practices for EEAT and being mindful of EEAT when creating any YMYL content, the quality of your content will likely be
How to improve the E-E-A-T on your website.
To improve the EEAT of your web pages, there's no need to radically change your approach to content creation or rethink your SEO and content strategy.
Just follow these simple steps and both your SEO and your E-E-A-T should improve:
Create high-quality, helpful content that provides value to visitors
Google's helpful content updates have reinforced their message that they want to prioritise original, high-value content written for people over content written for search engines, especially content deemed to be unhelpful.
A people-first approach to content creation should help the user by offering expert advice, answering questions, or engaging the user, and it should leave them feeling satisfied.
Essentially, high-quality, helpful content provides value to the user and meets their needs or expectations. This doesn't just mean creating new content regularly that meets your audience's needs as they grow and change but also means auditing your existing content and getting rid of anything that contains outdated information or is no longer relevant or useful.
Write original and informative content about trending topics in your industry that your target audience is interested in or answer questions relevant to your area of expertise that have a high search volume.
Add legitimacy and transparency to your content
In order to demonstrate the Experience, Expertise, Authoritativeness, and Trustworthiness of your content, you need to be transparent about who wrote it. 
If it is your own original content, own it! 
But make sure you have an up-to-date About Us section on your website that details why you are an expert in your field and the experience you have, which will help demonstrate your authoritativeness and lend trustworthiness to your content. 
If your content was written by a member of your team, include your team on the About Us section with similar information as described above. You can even go so far as to highlight specific members of your team if they regularly write content for your site and create their own author page, going into further detail to lend credibility to their writing.
If you have a guest writer that has created content for your site, provide a brief bio or link to an author page like above that outlines their credentials, demonstrating why the content they've created is relevant and trustworthy.
This all adds transparency and improves EEAT by showing off your team's knowledge, background, credentials, and experience.
Use Trustworthy Sources
If you're using external sources to gather information for your web page, especially when writing about YMYL topics, ensure that you are using trustworthy, credible sources and link to them within the content.
Use official sources like government or governing body's websites, scientific studies, news outlets, and pages from the experts you are quoting from or getting your information from and link to them. 
We did this earlier on in this blog post, linking to Google's official guidelines for their Search Quality Raters and their official page detailing their helpful content update, as these are where we've gathered the information from for you.
You can even link to social media posts if you're discussing a particular update or announcement.
For example, if you're writing a blog on a new government policy and how it might affect your target audience, you'll want to include a link to the policy on the official government website to show that you got your information straight from the horse's mouth, so to speak. It would help to include links to policy experts and what they've said about the policy too. Using credible sources like these will not only add weight to your arguments but also demonstrate that the information you are discussing is trustworthy.
Cultivate a positive reputation for your brand
Your brand's reputation has an impact on how trustworthy you are considered within your field or industry and therefore can impact your SEO, especially with regards to EEAT.
Having a positive brand reputation online will have a positive effect on the trustworthiness of your website and the content you put out. So, check reviews of your brand, products, or services regularly and if you spot any negative reviews, negative posts online, or negative press, be quick to respond in a professional manner, ideally with a reasonable and positive resolution.
There are plenty of tools out there that will help you monitor brand mentions or reviews of your business, like Google Alerts, which allows you to set up an alert for mentions of your brand, products, or services online.
Just remember to reply to reviews, whether they are good reviews or bad reviews, as this creates more positive interactions between your brand and your customers and will help to improve your brand's reputation over time.
Share User-Generated Content (UGC)
Similar to monitoring reviews and mentions of your brand, you'll also want to keep an eye out on any User-generated content (UGC) that mentions your brand.
UGC is any content that customers, website visitors, reviewers, influencers, or practically anyone who is not directly associated with your brand creates. This could be a video posted on social media of a new customer showing off their latest purchases, which includes your products, or it could be a short review written by a customer.
Not only could UGC help increase your sales (AdWeek states that using UGC results in 29% higher conversion rates than campaigns and sites that don't include UGC), but UGC can be a sign of trustworthiness for your brand, as well as increasing brand loyalty. 
Sharing content from your customers on social media or on your website can indicate to your audience that you value their thoughts and opinions on your products, services, and brand, which can establish a strong sense of brand loyalty in existing customers.
Because Google classes UGC as Main Content ("any part of the page that directly helps the page achieve its purpose"), using UGC can help improve the EEAT SEO of your website.
UGC can include:
Images
Unboxing videos
Video testimonials or reviews
Product reviews
Blog posts about your brand, products, or services
YouTube videos
A good way to increase the UGC available to you is to encourage customers to share their experience of your brand, products, or services using images or videos on social media with your brand's hashtag and tagging your brand's social media profile. You can do this by sending an email to customers after a purchase or to your mailing list, with social media posts, or by running a contest online.
Encouraging people to post about your brand online increases your brand mentions and your brand's exposure, allowing you to reach a wider audience and putting your brand in front of more potential customers.
By encouraging people to tag your brand in their posts also gives you access to a portfolio of ready-made content that you can share and include in your campaigns. You can even ask people to use different hashtags for different purposes to help differentiate between products or services and allow you to sort through them easier.
If you reshare content, however, make sure you have permission to do so and give them credit. 
Earn authoritative backlinks to your website
Increasing the number of links to your website that come from trustworthy sites is not only great for your EEAT SEO but the overall SEO of your website too!
Backlinks form a crucial part of a brand's SEO strategy but they also help to promote you as an authority in your field of expertise or industry.
People think highly of personal recommendations. If someone they know and trust tells them about a product, service, or company and recommends them, they are more likely to act on that recommendation than if they heard about it elsewhere. 
Backlinks work in a similar fashion to word-of-mouth recommendations like above. If a site that someone trusts and uses makes a recommendation for a brand and links to their site, the user is more likely to click on it and trust that new brand than if it came from a site they were unfamiliar with.
Google places a lot of importance on high-quality backlinks as well. You are more likely to appear higher in search results if you have a lot of backlinks from trusted sites.
There are many good methods for earning more backlinks (and some disreputable and unrecommended ways, too. But we won't go into those) but one of the best ways is to simply create helpful, informative, and engaging content that is worth sharing!
Here are some great ideas to help build authoritative backlinks:
Create helpful content like infographics or videos as linkable assets
Write how-to guides related to your industry or field of expertise
Write articles for LinkedIn or create engaging visuals to be shared on social media with links to articles on your website
Research topics in your niche and publish your findings so people can link to it in their own informative posts
Once any of the above are completed, share them online and get in touch with other trusted sites, experts, or publications to see if they'd be interested in posting a link to it on their website.
As you can see, EEAT (Experience, Expertise, Authoritativeness, and Trust) and YMYL (Your Money or Your Life) are two very important concepts when it comes to improving the overall SEO of your website as well as increasing the level of trust in your site and brand.
It is important to bear both in mind when creating new content for your website and always worth considering all the other activities you can perform on and off your website to improve your EEAT SEO.
If you'd like to discuss any of the above and how Market Rocket can help improve your SEO using our combined decades of experience, knowledge, and expertise, then please don't hesitate to get in touch.