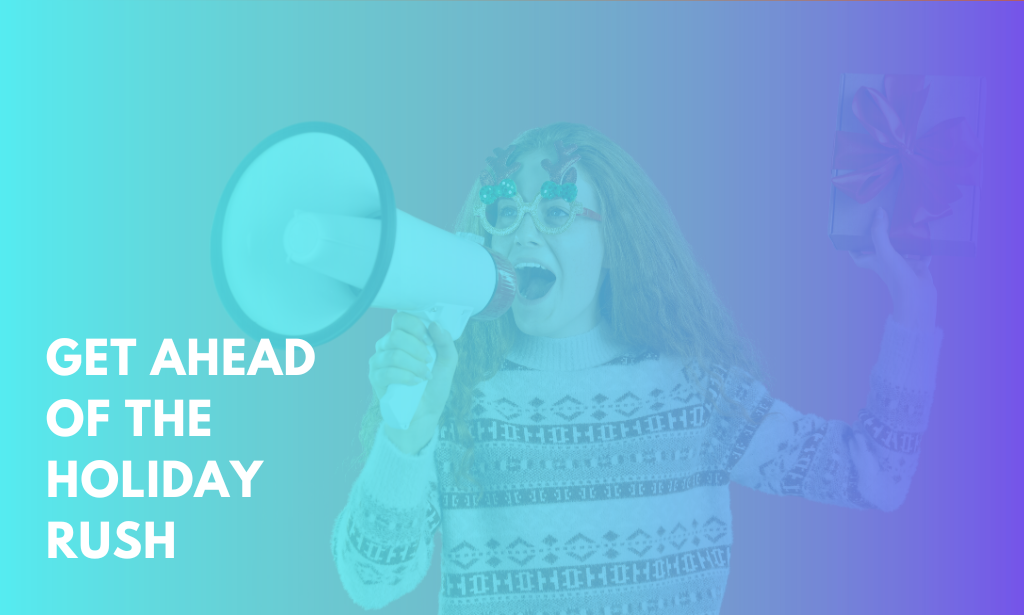 Holiday Season Digital Optimisation
The end of the calendar year is chock-full of opportunities for businesses to boost their digital presence and engage with audiences and ideal customers in a meaningful and entertaining way. Although a refined and data-driven approach can yield fantastic conversions, it can be a fair bit of work. Getting started with optimising the basics, however, is not rocket science.

We'll cover all the basics that you should be implementing to make the digital areas of your business really sing over the holiday season, putting Christmas tinsel on everything from landing pages and socials to PPC and email marketing. Here's what you need to get done in order to have a winning digital plan for this period and well into the New Year. With shindigs and Christmas parties, family and special events, it's easy to get distracted at this time of year, but make sure you stick to your plan! If you need to make any changes, these should be changes that are informed by A/B testing and analytics only. Trust the process!
Craft Some Holiday-Centric Landing Pages
Your website is the digital shopfront for your business, so during the holiday season, you should be thinking of adapting or redesigning your landing pages to increase conversions. We'll go over the language of copy in a moment, but making sure that your page copy contains regularly searched terms, is helpful and informative in nature, and is easily readable will push you up the ranks of results on any SERP (Search Engine Results Page), and will go great lengths towards putting you on that all-important first page. SEO-optimised copy should contain trending words and terms, but not at the expense of readability. The days of keyword-stuffing pages whilst saying nothing are gone; if your page doesn't hit readability targets it will be ranked down. Google, Bing and the others check how long people spend reading your pages too, so if it's readable but not relevant, people will bounce straight off and your page will be ranked down for that too.
Make it Festive! – Incorporate holiday-themed imagery and colours to give your pages the seasonal spirit. Be careful that your graphics don't obscure your products. You don't want customers to lose out on gifts because they couldn't see what they were looking for.

Timely Promotions: Make sure that any special holiday offers are front and centre on your landing page. You need to present your flagship deals immediately.

Clear Call-to-Action (CTA): Ensure that any CTA buttons are clear and attractive, and encourage those clicks. Yes, we're heading into the holidays, but avoid any 'festive' fonts on your buttons. They can look confusing.

Mobile Responsiveness: It may look great on a big monitor, but remember to optimise for mobile devices. People are busy at this time of year, and busy people tend to shop on their mobile devices. Give them the gift of easy navigation and simple-to-scroll pages.
Get Social This Season
Social media is an invaluable tool to engage with your audience during the holidays. There are plenty of ways to get your message across and show off your promotions or products, but remember that the most successful social campaigns are about people, not things, so make sure that if you're detailing your product you include a human or lifestyle element.

Make a Content Calendar: Plan a content calendar with holiday-themed posts like festive product showcases, ideas and deals for gifting, and festive stories from your customers. Stick to the plan to avoid social chaos! If you need a calendar created for you reach out to us.

Hashtags: Make sure you use any relevant holiday hashtags to increase the visibility of your festive content across platforms. Use hashtagify to find the most recent hashtags.

User-Generated Content (UGC): Encourage customers to share their experiences and tag your business in their posts. Affiliate schemes and influencer mentions are useful here, just make sure you get the content in good time.

Social Ads: Investing in targeted social media advertising can help you to reach a wider audience than just organic reach, but pick your audience demographics carefully and in line with your seasonal promotions or products.
Be the GOAT at PPC
PPC advertising on searches with services such as Google Ads can increase visibility and drive traffic to your website during the critical holiday period. PPC can be a tricky thing to get right, but if you're willing to dip your toe (and open your wallet a bit) it can be very rewarding.

Optimise those Keywords! – Target holiday-related keywords and phrases to align with users' search intent. Think about gifting-related terms too.

Ad Extensions: Leverage ad extensions to showcase your special offers and seasonal promotions, and display your shipping details.

Budget Management: Set an initial budget, but be realistic; you're not going to dominate searches with penny budgets. PPC can be costly, but it's reliably high-ROI so don't skimp on the budget, and prepare to adjust your PPC budget to maximise your returns.

Winning Copy – Make your ad copy work for you by spreading the holiday spirit and focusing on your unique offerings, but don't be florid. You don't have many characters to play with so make it short and to the point.
Nail Your Festive Mail!
Email marketing is still here, and there's a reason for that; it works. You already have a dedicated audience ready to receive your promotions remains a potent tool during the holiday season.

Segmentation: Your email audience should be divided into segments based on user interests, demographics and behaviour. If it's not, you might want to do this based on existing analytics before sending out your holiday campaigns. This will allow you to be more dynamic in your communications, and appeal to more people.

Be Dynamic: Personalising emails with the recipient's name is a good way to ensure basic engagement, but most email marketing platforms have dynamic content functions, allowing you to feature different products, gifts, images and even email copy based on a recipient's past purchases. Now that's engagement.

Counting Down: Add countdown timers to create a sense of urgency for limited-time offers. You can also send 'We're still offering…' and 'Last Chance!' at milestones over the offer period, but be careful not to spam your audience. Three emails per week should be the max to avoid audience fatigue.

Responsive Design: Ensure your emails are mobile-friendly and display correctly on all devices to capture those busy shoppers who only have a moment to scroll.
Good Copywriting Converts Customers
Great copy makes all the difference in attracting and retaining customers. If you can't produce it yourself, consider getting a professional to do it for you. If you have something that works, exploit it. You can take the copy on your landing page or blogs, and adapt it for social media, email marketing and even distil it for PPC. remember though, this is adapting, not copy/pasting. You should follow a theme and your tone of voice (the way your brand's copy sounds and reads) should be able to convey this theme without changing the way your brand sounds.

Storytelling is Key – Everyone loves a story, particularly during the holiday period of myths and legends. Share stories of your brand and products to create a more emotional connection with your audience.

Identify your Value Proposition – Make sure that you highlight the value your products or services bring to your customers' lives.

Create Urgency and Scarcity – You can use persuasive language to create a sense of urgency and scarcity, encouraging more immediate action. Don't be wishy-washy; if you're only running your deal until Boxing day or you've got a New Year's sale, make sure people know it!

Give Some Social Proof: Customer reviews and testimonials are solid gold for your marketing and brand story. They show other potential customers your quality and trustworthiness. Use them whenever you can; they should be a regular feature on your socials and are great as a footer item on emails.
Try Before They Buy
Testing and improving is the key to success. Getting good analytics has never been easier, and you should always be looking at data when it comes to optimising your services for your customers. Here are a few things you should be doing to get into the habit of regular testing and review.

A/B Testing: Experiment with different versions of your landing pages, ads, and emails wherever possible to determine which versions your audience prefers. You can't work out what's best without testing one against the other.

Regularly Review your Analytics: Review performance metrics and adjust your strategies accordingly. During the holiday period, you should be paying attention during the early stages to see what's hitting your audience and sticking.

Feedback is Vital: Collect customer feedback and really analyse it to understand any pain points with your customer journey, and use it to put the polish on your digital offerings.
Get Ahead of the Holiday Rush
The holiday season is nearly on us, but you can get ahead of the rush and present the very best digital version of yourself by constructing and sticking to a solid marketing and digital optimisation plan. If you need help with getting your business ready for the busy holiday season then Market Rocket offer comprehensive Marketing and Digital Optimisation services. Get in touch with our team and we'll be happy to help you set up for the holiday season.