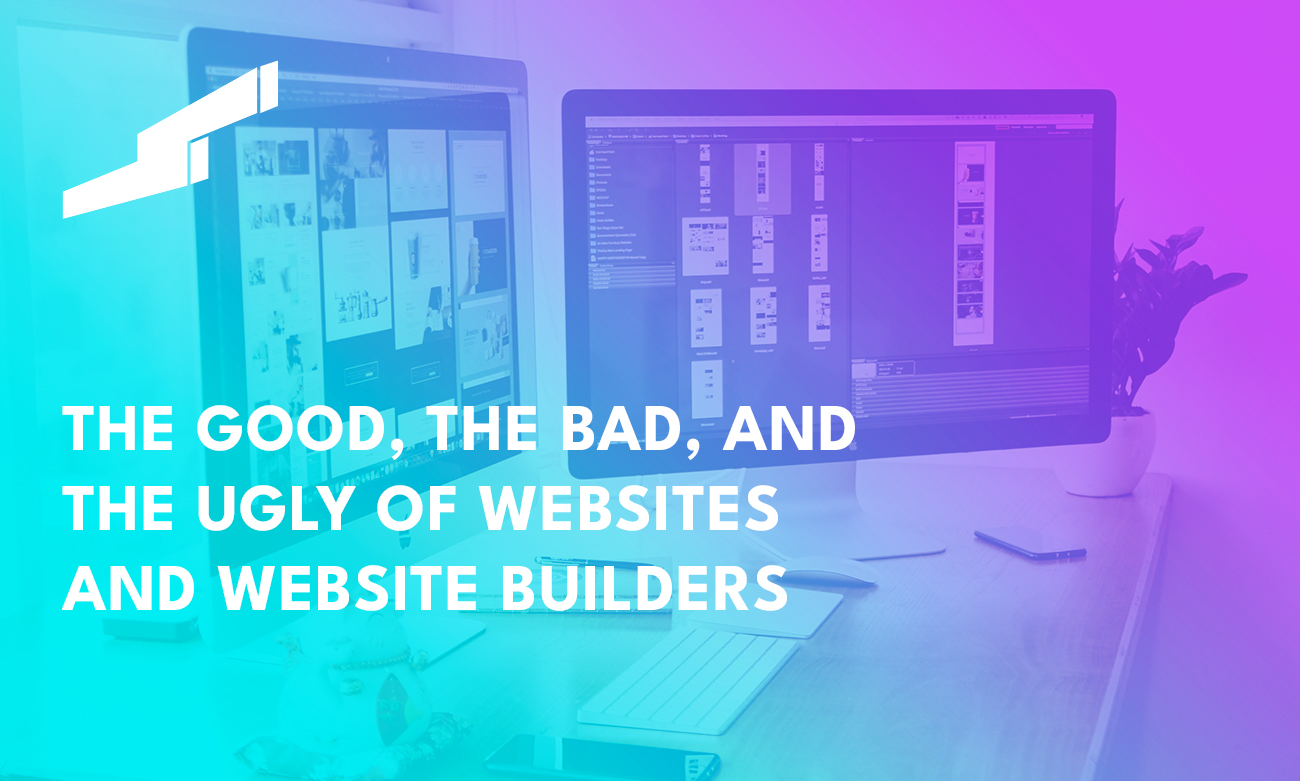 THE GOOD, THE BAD, AND THE UGLY OF WEBSITES AND WEBSITE BUILDERS
The best practices and bad practices of website building, and why do-it-yourself websites can have issues.
Website building – it is virtually essential in the digital age in which we live for businesses to have a website that potential customers can hop on and take a look at their goods and services or find out more information.
When done right, a business website can be a beautiful thing – for potential customers they are easy to navigate and use, attractive, helpful, and gives them precisely what they need or desire. 
When done wrong, however, well… they're just a hot mess and can actively discourage people from using your services or buying your products.
We've seen all kinds of website creations…
As a marketing agency that offers website design, website hosting, website development, and website building services as part of our service offerings, we've seen our fair share of websites. 
Some good, some bad, and some… some downright ugly. Or as Banzai and Shenzi, the two hyenas from the Disney animated version of The Lion King put it, "Uuuuuuuuuuuggglllyyyy"
What does it take to build a good website?
More often than not, the bad websites aren't necessarily the fault of the businesses – they had every good intention and they knew what they wanted their website to do. They just didn't know what a website needs and how to go about creating the website to make it do everything it needs to do.
Knowing how to build a website properly is a specialist skill. One that can take many years of training and learning. Not just that, but as a website builder, you need to stay up to date with all the latest changes within the website design industry, requirements of search engines, and every major update that could affect your website.
The trouble is, many businesses are bombarded with adverts on search engines, social media, or other digital platforms offering simple, low-cost or even free solutions to their website's design. There are so many website builders out there, including a lot of free website builders, that it's easy to see why many people think they can create their own website for their business with ease.
Can anyone build a website?
Can a beginner build a website? Technically, yes. Anyone can build a website. You can even have your website built for you using AI technology – just type 'can AI build a website' into Google and you'll see a plethora of results for AI powered website builders. The uprising has begun!
With all the web builder sites available, access to "easy" website building that includes website hosting and keeps the cost of a website down, and a massive 'treasure trove' of how to build a website or how to build a business website guides online, it's never been 'easier' for people to build their own website.
The question that is probably more appropriate is: can anyone build a good website?
We popped "how to build a website" into Google and immediately we were inundated with search results saying things like: 
build a website in minutes
Free and easy website builders
Build a beautiful website in no time
Create a website in minutes
Best platforms to create the website of your dreams
How to build a website: a beginners guide
Key steps to building the perfect business website
How to build a website in 10 easy steps
And more of the same.
It was astounding how many results stated how easy, quick, and cheap it was. It wasn't until page 2 or 3 when a very small number of search results mentioned anything other than website builders or drag-and-drop online website creators. 
HTML and CSS, two essential elements in website creation, weren't even mentioned until page 6!
Obviously, DIY website builders such as Wix, Squarespace, and WordPress were among the top positions on page one of our search results, as they are the main contenders for simple website building. But it is easy to see why many people think creating a website from scratch,
Do DIY website builders work?
Now, don't get us wrong – we're not saying that website builders like Wix and WordPress don't work and should never be used. Quite the contrary – they can make great websites.
What we're trying to say is that there is more to website design, website development, and website building than dragging and dropping some content into a ready-made website template. 
At least, that's the case for most businesses. If you're creating a website for a blog or a few basic web pages detailing information about your business and require little functionality beyond that, then they can be fantastic tools and you could be better off using them than paying a website developer to create one for you. 
*Gasp!* Did we just say that?
Yes, we did! We'll also go as far as to say that you certainly can create more complex websites with a ton of functionality, like an ecommerce website with hundreds or thousands of products, using a website builder. There are website developers out there that specialise solely in certain website building websites like Wix and WordPress and make a damn good living from it too! But you'll need to learn a lot more about website building along the way if you're a complete beginner, and you'll need to stay on top of the website management side of things too. 
Apps built into your website will need regularly updating, your domain will need renewing, you'll need to maintain links to various other functionality like Stripe or any connectivity with your warehouse order processing, and things like that. If this is not maintained, it can cause an irritating loss of functionality with your website that will put visitors off and increase bounce rates. You could even suffer bad reviews as a result of a poorly functioning website! 
Imagine someone trying to place an order on your website but being unable to complete the purchase because the payment app you chose when building your site hasn't been updated and no longer processes payments correctly. 
Not good, right? 
Or perhaps people are trying to buy products that are no longer in stock but are still listed as available because the website is no longer properly linked to your stock management system.
You see where we're going with this?
Depending on what you need your website to do, there is a lot more to website building than pushing a few building blocks together like a lego set and leaving it on display for all to see.
So, how do you build a website that works then?
Again, we're not saying you should never use website builders. We've used them loads of times – rarely for creating a website from scratch unless specifically requested, mind you, but we've worked with lots of websites that clients have created themselves using sites like Wix, WordPress, Squarespace, and Shopify.
If you're going to create your own website there some best practices to follow and some pitfalls to avoid.
Let's start with the good stuff.
Best practices of website building:
Keep it simple, stupid! You've probably heard this phrase used before, also known as the KISS principle. It can be applied anywhere but also pertains to website design. You want to keep your website as simple, clean, and easy to navigate as possible. User Experience is key. If website visitors get frustrated by too many gimmicky graphics, conflicting information, too many words where just a sentence or two will do, and numerous buttons to choose from, they'll just leave. Keep things simple – your visitors will thank you. And so will your sales.
Make it mobile friendly. People use their phones for almost everything nowadays. If your website has been built for desktops and not optimised for mobile, you're neglecting a massive chunk of potential customers. Ensure your website is responsive and looks great on all devices, especially mobile phones.
SEO the s#!t out of it. Search Engine Optimisation is absolutely essential if you want your website to be found. Without good SEO, your website won't appear on search engines. We've worked with clients in the past who, before they came to us, weren't even ranking on Google for their own business name! Let alone other keywords relevant to their industry. If your website isn't appearing in search results, it may as well not exist at all. Research the best keywords to use, create meta tags, write great meta descriptions, and a combination of other SEO techniques to improve your chances of being found.
Use relevant and high-quality images. Now, when we say high quality, we don't mean uploading the highest resolution image you can find – this will just slow your website down and cause it to take longer to load – a common reason for high bounce rates. No, we mean make sure the images on your website are relevant to the content and look good. Avoid cheesy stock images that clearly have little relation to your business or the content on your website and focus more on relatable images. People like buying from people, so use images that are directly related to you and your business. Also ensure that they are properly optimised for your website. Don't upload a 326 x 2448 sized image to your site and scale it down. Resize it appropriately first to match the requirements of the space on your site and then upload it. Also ensure your images are formatted appropriately to their function on your website – save them as the best file type for what it will be used for and its content and compress as required.
Test, test, test. And then test again, just to be sure. Test everything. Test absolutely every aspect of your website before you launch it. Check all the links and make sure they work (and send you where you want to be sent). Check every single page loads correctly – including all images. Check every form can be filled out and submitted correctly and they get sent to where they need to go. Test it all! The last thing you want is to launch a website with limited functionality, broken links, and a long list of error messages.
If you're going to create your own website there some best practices to follow and some pitfalls to avoid.
Let's start with the good stuff.
And now onto the negatives, things you should avoid, the don'ts of website building.
Things to avoid when building a website:
Using too many fonts. Some fonts are cool. Some fonts look amazing. There are a lot of fonts to choose from. It can be hard settling on just one or two. But you should avoid using more than just one or two, three at a push, across your entire website. Stick to a couple of fonts that complement each other well, are easy to read, and fit the aesthetic of your site. Using more fonts than necessary can make your website look like a mish mash of cut out letters on a ransom note. Also a note about colour – your text colour should be sharply contrasting to the background colour on which it is placed. This will make it easier to read. It's best to choose a light background with a dark text or vice versa. Don't overdo it, basically – see KISS above.
Animations. Sure, animations can be fun and quirky and a well placed animation on a website can be extremely eye-catching and draw users in to where you want their attention. However, use them extremely sparingly – don't overdo it. Too many will make your website look like an ad-filled newsfeed on Facebook or one of those bright, neon-flashing websites from the 90's. No? Maybe we're showing our age now. KISS also applies here, btw.
Long load times. It is very important that you check your page speeds before launching your website to make sure they don't take too long to load. Ideally you want each page to take no longer than 2 seconds to load. Statistically, the highest conversion rates occur on pages that load quicker than 2 seconds. With every extra second of load time, conversion rates drop. The higher the load time, the higher the bounce rate. Optimising images, checking every line of code is spot on, and ensuring your hosting is reliable, are all ways to speed up your website's loading time.
Neglecting your users. User Experience, or UX for short, should be at the forefront of your mind when designing and building your website. It should be built from the ground up for the user. If it's too complicated, doesn't look great, and confuses your users, they won't stick around. Make it appealing and easy for your users to use and navigate.
DIY. DIY website builders. Ok, again – this completely depends on the purpose of your website and what you need it to do. As we've already discussed, there's an ocean's worth of website builders out there to choose from. But just because there's so much choice, it doesn't mean you should choose them. Unless you already have experience with web design and development, know someone that does, or are willing to invest a lot of time and effort to learn (and it's a steep learning curve), your site may end up having issues. It may not be mobile-friendly, it may not have the best SEO, some links may not work, you could have issues with order processing, the list goes on. We're not saying avoid them completely, you just might be better off in the long run using a professional website developer rather than a DIY builder, depending on your requirements.
Right! There you have it. The do's, don'ts, pitfalls to avoid, the good, the bad, and the ugly of website builders. Hopefully it helps!
And of course, if we've put you off using a DIY website builder and you'd like to discuss professional website development from the website specialists here at Market Rocket, please do get in touch.