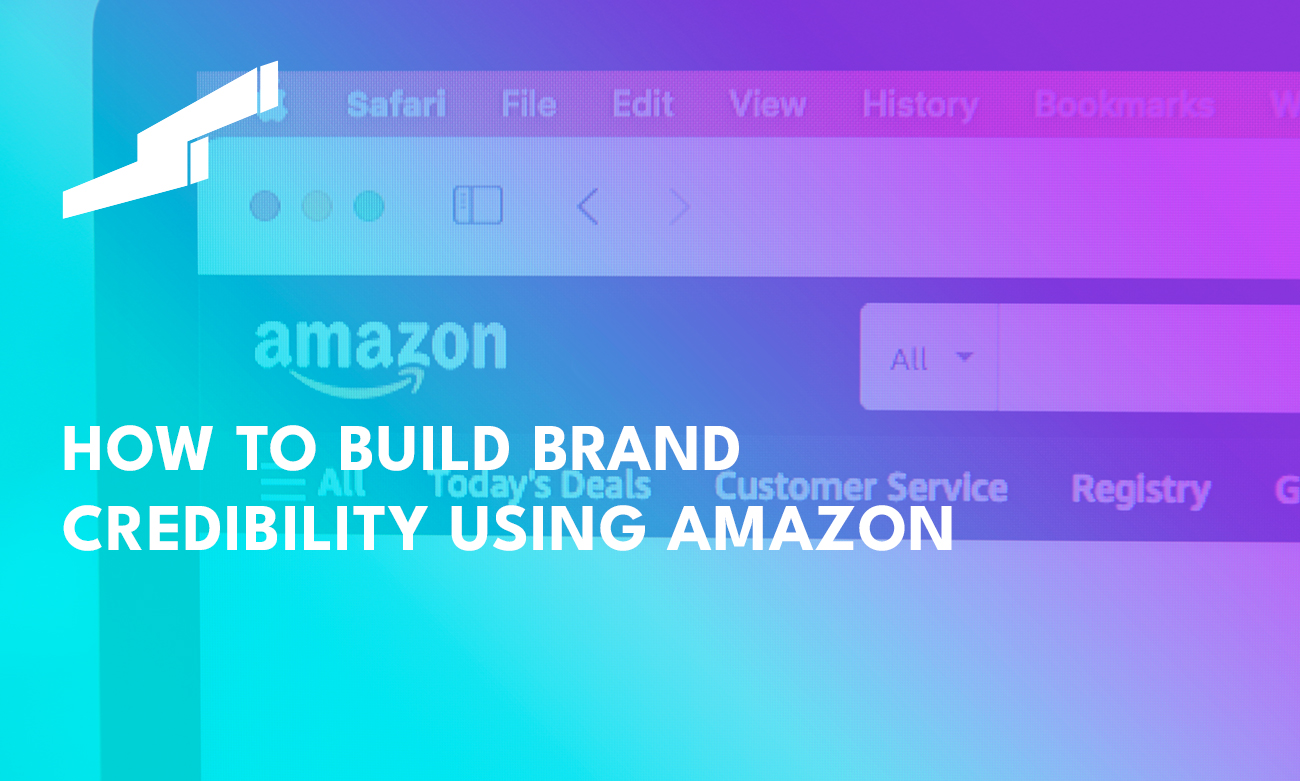 HOW TO BUILD BRAND CREDIBILITY USING AMAZON
According to Matt Peck, CEO of Market Rocket, all roads lead to Amazon when it comes to selling products. 
Whether you manage a start-up brand, an established multinational brand, a brand with one product or 5000 products, or a brand that has gone viral after an influencer mentioned your product(s) on TikTok, you will, sooner or later, end up on Amazon.
Can selling on Amazon damage brand reputation?
The main choice brand managers, product owners, or entrepreneurs need to make when they start selling on Amazon is whether to do so by approved channels or other, less reputable, means.
Amazon, the world's number one ecommerce site, is famous for offering cheap deals and during the Black Friday sales in November millions of brands reduce the RRP of their products in order to boost sales. However, rather than viewing Amazon as a discount platform, we would suggest treating it as a place to build brand equity and consumer trust. 
Millions upon millions of consumers trust Amazon. So, listing your products on Amazon automatically provides your brand with a certain amount of credibility, with consumers trusting that you're legitimate and reputable when they view your well-structured product page and well-produced product pictures.
The key is to embrace Amazon's online selling platform for everything that it offers but also concentrate on protecting your product listings.
What is the best way to sell on Amazon?
"Whether products are sold directly to consumers or via distributors, if a brand is of any reasonable size, its products will find their way onto Amazon. This can either happen in an unmanaged, unpoliced, and uncontrolled manner, or via approved channels – this is really the only choice to make," Matt states.
Protective business owners are often surprised when they find their whole product category is available on Amazon but trying to keep your products off Amazon can often lead to misrepresentation. This can lead to massive legal issues in the case of ingested goods or products that require accreditation.
Rather than focussing on the negative effects of listing your products on the world's largest (and favourite) shopping platform, by carefully policing your product listings, you can add credibility that could give your brand a halo effect in other channels.
How Market Rocket can help you build brand credibility and thrive on Amazon
We always recommend that brand owners and product manufacturers protect their brand on Amazon from day one. 
This includes:
joining Amazon's Brand Registry 
registering trademarks to prevent IP infringement 
immediately putting a halt to any counterfeiting
blocking unauthorised sellers from reselling your products
documenting distribution channels 
and creating an overall cohesive brand experience for customers.
We work with many Fortune 500 companies and their third party sellers and, amongst our considerable catalogue of services, we offer brand protection services to help police their Amazon listings.
Brands can make a significant investment in making sure that consumers know and trust that they will get a genuine product on Amazon Marketplace but it is worth it. Having poor representation on Amazon, which gets 2.72 billion unique monthly visitors, can negatively impact consumer confidence, which can affect more than just the retail price of a product – it can become a genuine identity problem!
Market Rocket has masses of experience selling products and protecting brands' presence on Amazon Marketplace, helping to not only grow brands' market share on Amazon but helping them grow on other channels too – thanks to their success on Amazon.
Listing your products in a controlled manner, with good reviews and RRP, can be more beneficial to a brand than having an omni-channel approach, irrespective of what this generates in sales on Amazon.
In addition to the helpful tools, programmes, and services offered to registered brand sellers (like Amazon FBA, A+ Content, and Brand Analytics), a positive Amazon experience, and access to millions of consumers, leads to greater sales across other channels.